Garages are an important part of everyone's life and if you have a good look around, most houses have one. 
At Astro Steel, our quotation includes if we are organising the construction of your building; the required Queensland Building & Construction Commission (QLD only) insurance. We also have a team of locally employed Garage Builders who erect them.
Garages to stand the test of time, direct from our factory. Get a free quote now!
What you can expect when you buy an Astro Steel Garage:
Cladding

We use only .42 bmt wall and roofing iron, which means that you are getting a stronger structure, we also fix all roof sheeting through the rib, not through the pan (flat) of the sheeting. Although not required, other shed structures use a 0.35bmt wall sheeting and fix the roofing screws through the pan (flat) of the sheeting. Astro Steel only uses COLORBOND ® roofing and wall sheeting from BlueScope Steel on their structures. Ensure that you are getting Australian made products.

Colour matched screws

All screws used on our structures have colour matched heads and we use only quality Australian made fasteners from Bremick Fasteners.

Concrete slab

Our slab construction is a standard 100mm thick reinforced with F72 mesh supported on plastic bar chairs using plastic membrane barrier under the concrete to avoid rising damp and including concrete footing under the steel portal frame columns.

Engineering – low high low certification

All garages are engineered to meet cyclonic standards and with certified engineering for council approval with low high low certification.

Flashing at the corners & the door frame

To protect against sharp edges, Astro Steel Garages come completed with pre-folded and colour coordinated flashings to corners, door openings, windows and door heads to enhance the appearance of your garage by using COLORBOND material.

Gutters & downpipes

These are included in your kit at no extra price. All gutter is made from COLORBOND ® material and the downpipes are 90mm PVC stormwater pipe.

Hold down brackets

5mm thick hold down brackets designed to cyclonic conditions incorporating 12 x 30mm Grade 8.8 purlin bolts to connect the base plate to the intermediate portal frames and 12 x 100mm screw bolt into the slab.

Knee & apex plates

We use 3mm thick galvanized plate which is joined using 12 x 30mm Grade 8.8 purlin bolts to each plate.

Personal access doors

Our doors are a one-piece smooth finished, 2040mm x 820mm metal door using COLORBOND ® material. All doors are fitted with a good quality entry set lock. Doors are fitted to a rebated jamb to provide excellent weatherproofing and security.

Roller doors

We supply only B&D roller doors. Easy to use and strong – we also lope down the concrete at the doorway to help stop the water blowing into your building under the roller doors.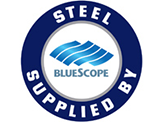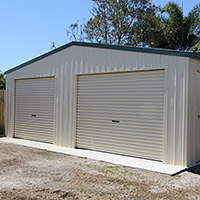 Let's discuss your new garage!
Want to turn your garage into a special place where you can hang, talk shop, play music and fix or fiddle with cars, bikes or whatever your favourite toy looks like? Astro Steel Building Products has the answer for you!
Our stud framed garages are especially popular for those lining their space for looks or soundproofing. Need a specially sized bay, a special opening, door or awning? Whatever your garage needs, contact us today!